Week 6 – Marketing Masterclass
Hello Everyone,
Here we are at week six and at the end of the first phase that John has for us.  As you can see (by checking the Masterclass Blog sites in the far right hand column) we have all made wonderful progress.  As we move forward I think you will begin to see all of us making changes to please our own preferences on our pages.
This week we had our first Webinar with John.  The scheduled time was had for me to meet, so I watched the video that John taped during the meeting.  It was good to see that many of the questions we had were pretty much the same and that videos for our technical questions would be forthcoming for our reference.  Although there were minor glitches, John and "The Associates" did a terrific job with the presentation.
We have tasks to blog more, check out each others sites and comment on them, help each other where possible, and get to know each other better.  All of this is  pretty pleasant, but it does take time.  I still have not been to all of the Masterclass sites….but I am working on it.  I know others have been to my site because they left comments (which I replied to).
This week I think Daniel Sumner provided all of us with a Widget that lists all the Masterclass Blogs randomly each time the page is refreshed.  I think it's cool and fits in what we are doing with each other.  Then Planet Divinity and Dave Nicholson gave us access to an important tool for increasing traffic to our sites called "Total Web Traffic" that I will study and comment on in later blogs.
I have to reiterate that everyone involved in this class is great to work with and always helpful.  The cooperation between everyone is making this class an experience of a lifetime.  So thanks John, Dan, Dave, Paula and anyone I am forgetting.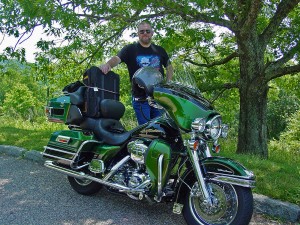 The photo above was taken on the Blue Ridge Parkway in the Shenandoah mountains on the way to the 2006 Virginia State Harley Owners Group (HOG) Rally being held in Lynchburg, Virginia.
 Jay
Related Posts You May Be Interested In: