What is Affiliate Marketing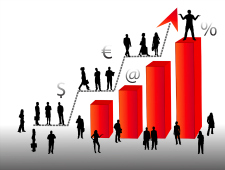 Affiliate Marketing is a term that has a couple of meanings. The general term basically means selling something that is not your own product that you receive a commission once you make a sale. However, applying an online twist to Affiliate Marketing can change that definition a bit. You can make money online with affiliate marketing by Selling other peoples products or by selling your own products allowing other affiliate marketers sell your product for you. In either case you are an affiliate marketer.
Affiliate Marketing – Selling Affiliate Products
The good thing about selling affiliate products is that you can find established products to sell on a niche sales site.  Then again you could pick and choose good affiliate products related to your blog site and market them using a plugin like WP125 or other widget. You can also include affiliate products in a blog post, within pages or in an eBook product that you create.
Affiliate Marketing – Find Products to Sell
How do you find affiliate marketing products to sell? Many Marketers that are interested in having affiliate marketers sell their products list them in online directories where sellers can sort by niche to select products for whatever niche they have.
Clickbank Is one of those directories with over 50,000 products and 100,000 active affiliate marketing experts. All you need to do is register on the site, type in what Clickbank ID you want to use, have it verified (you want your own ID that no one else is using). Then you search for a product you like, insert your ID within the url and start promoting the product.
Products that you find in Clickbank are required to have a website with an affiliate marketing page where you can get graphics, messages and email tools, insert your ClickBank ID then you can copy and paste these on your site, in your blog or in your email marketing program.
I feel that it is important to mention that to start getting paid that you need to make several sales from different credit cards or PayPal accounts within I think a couple month period. After that you can get paid once or twice a month from sales you've made. The reason I mention this is that I did not read the agreement. I made several sales but did not sell them in the allotted time. Live and learn I guess. Now I get regular checks when I make sales.
You can avoid the problems I had by doing better with promoting your affiliate marketing products from your website, FaceBook and Twitter. Advertising on FaceBook is very cost effective and easy to regulate how much you want to spend. When I started out there was no FaceBook.
Jay's TIP: To get a continued stream of cash, even from one product, choose a product that has a recurring (monthly) payment, such as a membership site. Then mix in some good higher priced products to get chunks of cash at a time.
Affiliate Marketing – Whole Site Affiliate
If you are lucky enough to find a website who uses affiliates to sell all the products they have on a site, there is a good chance that there is an affiliate link for the main url.
This is advantages because if anyone uses your affiliate link to the website, anything that user buys on the site you make money. Sound to good to be true? Well there are plenty of sites that offer this.
Choose a site that have valued products that work and are worth the money and satisfy a need that people just have to have. Just this one link could make you a load of cash. But you are responsible to promote the page.
Tips and Tricks, HQ is one of those sites that you should look at. Super tools, affordable, meets the need. This site has a very informative blog about plugins, blogging and general marketing. Many free plugins, other products and books are offered, as well as, the premium tools of course. Even better, that have packages of related products that you can buy to save you money. This make it easy to to promote. You can write blog posts and create links to their super blog post for promotions. It's easy!
You can become an affiliate for Tips and Tricks, HQ for the entire page or any of their products individually. As a matter of fact, when you sign up they use their Affiliate Platform software, so you can get a first hand look as how nicely it functions. I have more about this plugin later in this article below.
Affiliate Marketing – Your Own Products
Anyone in Internet or affiliate marketing will tell you that is very important to create your very own products and eBooks. Not just for affiliate marketing products, but for give away programs you can join to build your email list. At the same time yo will be building your online presence.
If you have products that you have made and decided to take the next step to market them for sale, you could just market them on your own. However, what if you had a whole staff of affiliate marketing experts advertising and marketing your product for you? Anyone can do this and the cost is a percentage of the cost of the product you offer to pay them.
ClickBank will charge you just under $50 to list the product and distributes a few advertisements. They will also charge a little for each sale. But they manage all your marketers and pay your affiliates and you on a regular basis. This saves you time and money. Most people will pay affiliates 50% of the cost of the product, but there are some out there that will pay up to 95% just to get their name out there.
Jay's TIP: A Successful Product Sales Process Should Include:

A professionally written offer

requires an email address to add to your email marketing campaign
a submit button to buy the product. PayPal

A well written document with expert content.Thank You letters for all offers which include the download link and additional offers (all additional products should include their own additional offers which are not in the original product. AWEBER

Several special offers to make more money from called up-sales.

Follow up email with an unannounced FREE gift (internal offers) as well as one or more sales offers at the end of the email. Ask them to share with their friends (viral marketing). AWEBER
Clients are more inclined to buy additional products when they originally obtain a purchase. Also, ClickBank products are an excellent means of providing your additional offers.
Affiliate Link Manager Plugin
You will need to manage all of your affiliate marketing links. Some use Pretty Link, but that is just a build it, copy it and paste it method which is very time consuming. The best way to manage your links is a WordPress Plugin of course. Well the Affiliate Link Manager Plugin does this and much more.
The Affiliate Link Manager Plugin allows you to automatically convert specific keywords from your blog posts and pages into your affiliate links. It also cloaks the affiliate link and gives it a prettier and shorter alias.
This Affiliate Link Manager Plugin can also convert keywords from your sidebar widget text and comments into your affiliate links.
Here is a list of what the Affiliate Link Manager Plugin can do for you.
Automatically Convert Keywords into Affiliate Links – Assign one or more keywords to an affiliate link, and the plugin will automatically scan your blog post and pages for those keywords and convert them into your affiliate links. You can easily reverse the operation with one click (very useful when you stop being an affiliate).
Cloak Your Affiliate Links – It will make your external and affiliate links appear to be on your site. The links will look short and pretty too.
Set Keyword Conversion Limit – You can set the maximum number of automatically inserted links per post or page so the blog posts do not look spammy.
Apply Common Customizations – Customize the font color, size, style of all the anchor texts of the cloaked links. You can also apply custom CSS.
Apply Common Link Attributes – Make all cloaked links open in a new window and add "no-follow" tag to them.
Shorten URLs to Share on Twitter – You can create nice and short version of any URL that appears to be on your site then share it on twitter, Facebook etc. No need to use an external URL shortener anymore.
Great Support & Free Lifetime Upgrades – Visit the support site to explore the available product support options. Are you tired of listening to fake support promises? Checkout their forum to see how we handle product related issues.
Affiliate Platform Plugin
If you don't want to use Clickbank to list your Affiliate Marketing Products this Affiliate Platform Plugin is just around $50 one time for all of your products instead of $50 to Clickbank for each of your products. Remember that you'll still need a place online to provide your own affiliates your graphics and html code for them to copy/paste them on their own sites and in their own ebooks, etc. The Affiliate Platform Plugin allows you to do this.
Once you have a created your very own product you want to get other marketers to sell your product for you and you'll pay the a percentage of each sale they make for you. Therefore you'll need a method to:
have a place for affiliates to join
provide affiliate id's
share your banners/links/buttons
have a place for affiliates to copy the html for the graphics along with their affiliate id
manage all of your affiliates
This is the Affiliate Platform Plugin you will want to use. It does all of the above for you. It is updated every time they want to improve it and when WP does their updates. You can operate this right from you blog site.
This company provides a number of the free plugins that are in the WP library, but of course they also have a bunch of premium plugins like this one. – Tips and Tricks HQ.
The 'WordPress Affiliate Platform Plugin' is an easy to use WordPress plugin for affiliate recruitment, management and tracking that can be used on any WordPress blog or site. This plugin lets you run your own affiliate campaign/program and allows you to reward (pay commission) your affiliates for referred sales.
The admin can configure banners and links which the affiliates can use on their site to drive traffic to your site. All the clicks, leads, sales etc are tracked by this plugin.
If you are running online ad campaigns for your products and services then you can use the affiliate platform plugin to measure the true conversion rate of each campaign to find out the profitable ones. This allows you to weed out the non-profitable campaigns and save money in the process.
In a nutshell, the Affiliate Platform Plugin will help you achieve the following:
Launch your affiliate campaign in a short time.
Monitor clicks and conversions of visitors sent by your affiliates.
Maintain your brand with your own product Ad Banners and Links.
Drive more traffic to your landing/sales page from your Affiliate's site.
Significantly BOOST revenue with more sales.
* * * * * * * * * * * * * *
Affiliate Marketing Tool Resources:
Become an Affiliate for Learn To Blog
ClickBank
AWeber
Affiliate Link Manager Plugin
Affiliate Platform Plugin
Tips and Tricks HQ