WordPress 3.5 – TwentyTwelve Theme
WordPress 3.5 – Upgrade Available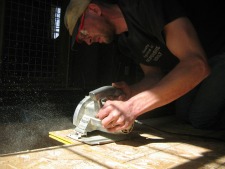 IT IS FINALLY HERE! The long awaited newest version of WordPress has finally arrived. As of 11 December 2012, WordPress 3.5 along with the newest Default Theme TwentyTwelve is now available to everyone. As with any new version of WordPress, it is important for you to upgrade to the new version to ensure the most recent security issues are addressed.
There are four basic steps you always need to follow when you upgrade anything on your WordPress website. I think these are always worth mentioning because so many folks are just starting out in using WordPress and it is always a good reminder for all of using WordPress.
I've posted the steps to upgrade below, as well as, my thoughts about WordPress 3.5 and the new default TwentyTwelve Theme. I hope you find the information useful.
WordPress 3.5 – Upgrading
Before you upgrade your WordPress site to the new version, be sure to back up all of your files and databases just in case something goes awry during the upgrade. I did however upgrade all of my sites and client sites without any problems, but you just never know.
NOTE:
If you do not back up your site and you do have problems, contact you host to see of they will load a recent backup of your site. Most hosts have backups accomplished on a routine basis.
When you enter you Administrative area you'll have a notification to upgrade to the new WordPress 3.5 version.
BACKUP YOUR WEBSITE
Click the upgrade link and let it run all the way through the process. DO NOT get antsy and exit before it has completed the upgrade. This can cause huge problems with the site and you may have to reload the entire site before you try to upgrade again. Not something you will like….trust me.
Once WordPress 3.5 has completed upgrading, you will be taken to a page that explains many of the new improvements. Read through this information to inform yourself on them and think about how you can use them to your advantage.
Play with the improvements. Create a page or post and play with the gallery to see how easy it is. Play with the new color selector and see how more accurate you can match other colors on your site. You get the idea….explore!
WordPress 3.5 – Improvements
I think the biggest plus for most of us is the major change for the "re-imagined" (WordPress.org word) flow for uploading photos and creating galleries. I played with this a bit last night and my photography studio clients are really going to love this. The process is easier and faster than ever. In my opinion the media loading and placement of them within the site has always been the Achilles Heal of WP. This is a major improvement that everyone building with WordPress is going to just LOVE!
I am a big visual guy, so the gallery ease of use and esthetic look is important to me. Likewise, the new color selector provides a greater selection of colors so making it easier to find just the right shade of coloring on your site.
WordPress 3.5 – The new Default TwentyTwelve Theme
I've been watching the progress of the new WordPress 3.5 Default Twenty Twelve Theme. Mainly for the exceptional mobile interface which has a very clean responsive design. I applied the Twentytwelve them to my test site and check it out with my Android Galaxy Nexus and with my wife's Apple iPhone5. It looks GREAT and works fantastic. I've been waiting for WordPress to improve mobile operation and they have done a super job.
The styling of the dashboard looks better. They have updated everything to be "Retina-ready" with beautiful high resolution graphics, the new color selector as I mentioned before and modifying the seldom used sections in the administrative area.
WordPress 3.5 – What are your Impressions?
I'd be interested in your thoughts on the new WordPress 3.5 along with the Default TwentyTwelve Theme. So do the upgrade and play with it. Then come back here and let me know what you think.
In the mean-time I'll be playing with some of the .css code to create options I like to create my child theme's for all of my sites. I'll share them with you as I progress.
For more information and instruction on building and modifying your WordPress website join us at:  Making Money on the Inter.net | Jay Mueller.
Related Posts You May Be Interested In: