Talk About Sex and Horses? WOW!
I was just talking to a friend of mine in the UK about the use of SEX in advertisments, blogs, etc.  She was wondering if the use of the word "sex"  would improve traffic statistics.  So she is doing a study on it.  Personally I think that SEX will always sell products.  It's all over the internet, TV, magazines, billboards and such.  It stands to reason that if sex did not work, advertising agents would not use it.  Hey who doesn't like sex, right?
Ok, the talk about horses came up with my friend Mandy Allen's association with helping "World of Whispers" which is an organization who is saving a herd of horses.  Helen Wingstedt runs the project and you can read more the project HERE. Please feel free to make a monitary or professional donation at "World of Whispers" to help them out if you can.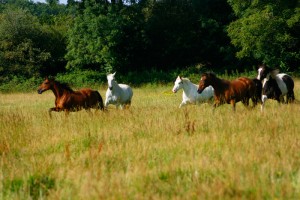 I'm sure the photo has your attention now, right?  Well I want to tell you that Mandy and her partner are running a Photo Exhibit of the the herd of horses at her gallery until 22 November 2009.  They are selling a limited amount of each photo (25 each) and you can now buy them on-line RIGHT HERE!  If you like the photo above you will LOVE the others. You'll know why I respect Mandy when I tell you that all profits go directly to the horses.  How great is that!  You get a great photo or two and help save the horses at the same time.  It is a win, win situation.
Photographs
World of Whispers
Please help if you can!
Jay
Related Posts You May Be Interested In: